Do You Fit Into Any Of These Categories?
You create crafts for yourself, your family and your friends.
You love to share your crafts and/or crafting experiences with others.
You want your blog to standout from the crowd.
You run a blog to generate extra income through product reviews, affiliate marketing, videos and advertising.
You have an actual product that you want to market and sell online.
AND – You're okay with going outside of your comfort zone when it comes to technology.
If you answered yes to any of these, especially the last one, this article is for you! Keep in mind, WordPress is more complex than Google's "Blogger", but relatively speaking, it is VERY intuitive and doesn't require any coding knowledge, although basic HTML is a plus!
Creating and managing your own website with your own URL is easier than ever! Based on my experience in the craft world, the majority of crafters gravitate to Google's "Blogger" to create their crafty world on the web. For the majority of crafters, this is a great "free" solution, and if you're getting everything you need out of Blogger, then stick with it! But there are some major pitfalls if you do.
Blogger is a free service provided by Google which means that at any time it can end up in the list of "Discontinued" services. Google has been known to offer free services and then take them away without much notice. (See Wiki Article). This means that years worth of blogging can be pulled right out from under your feet and lost forever.
If you're selling a product and want to look professional in the eyes of your customers, janescraftyblog.blogspot.com isn't going to help you stand out from the crowd. You'll always be overshadowed by the "blogspot" in the URL. Now granted, you can buy your own domain (janescraftystuff.com) and point it to your blogger address, but once your customer hits your blog, the address reverts back to .blogspot.com
Blogger doesn't really provide a secure way to handle online payments. Of course you can add PayPal buttons that redirect to PayPal to handle the transaction, but this method isn't very streamlined and will cause you to lose sales because buyers need to feel secure and confident when spending money online.
Plugins are limited.
Blogger limits the size of your pages to 1MB.
Blogger limits photo storage to 1GB (15 GB if you link with Google+).
WordPress - The King Of The Internet
There is absolutely no doubt about it, WordPress has been and will continue to be the go-to platform for blogging. Currently, according to W3Techs.com, WordPress makes up almost 60% of blogs they actively monitor on the internet. That is an incredible market share! Wow! Imagine if you owned 60% of any industry!
Because so many people use and depend on WordPress, website hosts are making it easier for you to start your own WordPress blog, more developers are designing themes and more programmers are creating plugins. This also means that security for the platform is SUPER important. One bug or flaw could potentially impact 60% of content management sites (blogs) on the internet, so the developers at WordPress take security VERY seriously!
Plus, WordPress has over 40,000 plugins that expand it's capabilities like you wouldn't believe! You can see them here: https://wordpress.org/plugins/
WordPress - The Next King of eCommerce
Not only does WordPress give you one of the best (if not THE best) platforms for blogging, it also serves as an awesome ecommerce platform in the form of a "plugin" called WooCommerce which now owns almost 30% of all stores on the internet. (stats here). So it's now possible to run a blog and online store using the same package. And guess what? WordPress and Woocommerce are 100% free. Of course you need your own web host, but you can find one for as little as $5 a month! Is it easy? Yes and no! It's definitely more challenging than Blogger, but the level of customization you are afforded with WordPress puts Blogger to shame. For more information on WooCommerce, click here.
Choose A Host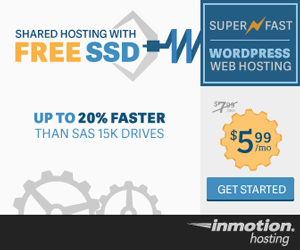 There are so many hosts to choose from and you're welcome to pick any host you'd like! Personally, I've been using InMotion Hosting for my business and personal sites for about six years now. I'm huge on customer service and they always live up to my expectations. Plus the uptime on my sites has been fantastic (that means that they don't go down).
InMotion offers three levels of WordPress hosting. If you are just getting started, the "Launch" package will be just fine! You can always upgrade to a better package later (if you start getting tons of traffic and/or business starts picking up).
Click here or on the banner on the right to get started with your hosting plan.
Pick A Domain Name And Claim Your Site!
After you pick your plan, you get to choose your domain. Normally, some hosts will charge you up to $15 for a domain name. InMotion includes it in the cost of the hosting, so that's pretty sweet!
This is where the fun begins and you get to start shaping your site! What do you want your domain name to be? When picking your domain, stick with .com as Google ranks .com sites higher than any other domain type.
If it's just a personal blog, you can make it your name (leokowal.com). You can add a descriptive word after your name (leokowalcrafts.com). It can be anything you want. It's totally up to you! Keep in mind that the domain name has to be available! If it's not available, they'll let you know to try again!
Once you've picked your domain name, you'll be asked to fill out payment information and select some other options to help customize your hosting. During the registration process, you'll be offered a few "up-sell" items. Here is what you need and what you don't need.
You DO NOT need domain privacy unless you don't want people to know that you own the site. That's kinda silly to hide the fact that you own the website if you're going to have your name all over it. The only thing I've noticed is if you don't get domain privacy, you may get SPAM mail (regular mail) from companies that want your hosting business. Save the $10 a year and if you get targeted for SPAM mail just use it to start your cozy fires in your fireplace or recycle it. They'll give up eventually.
You DO NOT need McAfee Anti-Virus, your computer probably already has it!
In the Content Management System Auto Installer Box, click on the Install WordPress option. This will make sure that WordPress is installed automatically when your hosting is configured!
If you pick the "launch" package for one year using the options above, you'll get your own hosting, domain (URL), WordPress and your own email address for roughly $83 and some change for an entire year. That's less than a quarter a day. Not bad!
In future Craft Blogging 101 articles, I'll be discussing WordPress in more detail! This includes how and where to purchase and install themes, basic WooCommerce and navigating InMotion's admin panel. In the mean time, InMotion has a wonderful help page full of articles and videos that show you how to navigate WordPress! Click Here to check it out!